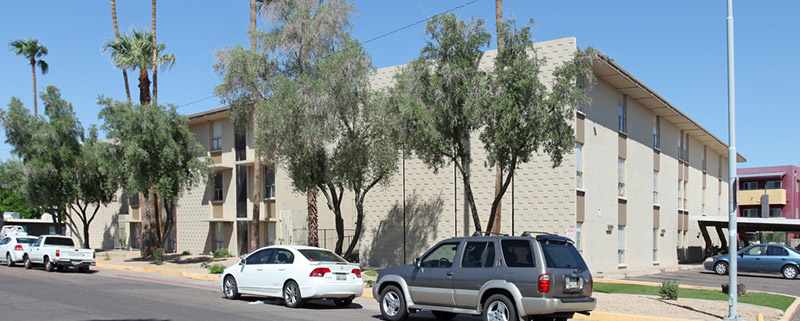 Tempe Terrace – Tempe, AZ
Loan Amount: $3,540,000
Purpose: Acquisition
Capital Source: Bank
LTV: 65%
Term: 10 Years
Rate: 4.1% YRS 1-5, 4.6% YRS 6-10
Prepay: 3-2-1-1-1-1-1-1-1-0.5
Recourse
Transaction Details:
Tempe Terrace is a 39-unit multifamily property located walking distance from Arizona State University in Tempe, Arizona. The property was acquired by Tower Capital's client, an experienced commercial real estate investor based in California, for $5,460,000 or $140,000 per unit.
The property was originally built in 1963 and is comprised of block construction and master metered for electricity. The unit mix consists of fifteen 1bed/1bath units and twenty-four 2bed/2bath units. At the time of purchase, the property was 100% occupied by students. The current ownership plans to take advantage of the property's close proximity to ASU by keeping the property student housing.
The 5/5 hybrid loan structure provided by the bank offers the borrower an exceptionally low rate of 4.1% for the initial 5 year term, and unlike many other hybrid structures offered by banks where the rate goes floating or must be reset to a then unknown current market rate at the end of the initial fixed rate term, this loan will fix the rate at no greater than 4.6% for years 6 through 10. Should the borrower stay in the loan the entire 10 year term their interest rate is effectively 4.35% for the entire loan term. In addition, the very light stepdown prepayment structure allows the borrower to divest of the asset fairly early in the term at a very low cost.
About Tower Capital:
Tower Capital was founded to enable owners of commercial real estate to achieve their investment goals with the least amount of time, energy, and cost, while creating surety of execution and peace of mind.
Established in 2015 and headquartered in Phoenix, Arizona, Tower Capital provides customized structured financing to investors throughout the United States. We specialize in debt and equity placement ranging from $2 Million to $100 Million and have financed over $500 Million for our clients since inception. We focus on independent financial advising with an entrepreneurial mindset, market vigilance and personalized attention to every client.