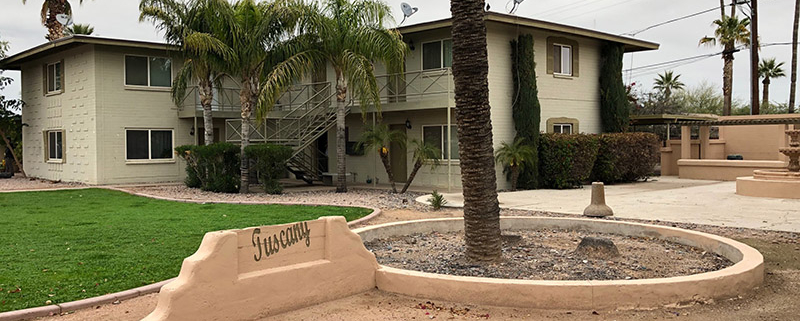 Tuscany Apartments – Scottsdale, AZ
Purpose: Acquisition Bridge Loan
Capital Source: Finance Company
LTC: 70%
Term: 18 Months +Ext.
Rate: 8.75%
Prepay: None
Non-Recourse
Transaction Details:
Tuscany Apartments is a 12-unit multifamily property located at 4601-4613 N. 74th St in downtown Scottsdale. The project consists of two 2-story, 6-unit buildings, situated on three ½-acre parcels. The property was acquired for $1.75 million ($145.8K/unit) with approximately $32.5k/door ($390,000) budgeted for renovations. The entire property will undergo a complete interior and exterior renovation and rebrand. Construction is planned to begin about 6 months post-close after city planning and permitting is complete.  The renovation will be performed in two phases, with one building completely down at a time, while still maintaining occupancy and revenue from the other building. The total time for planning/permitting, construction, and lease-up to stabilization is 18-24 months.
The $1,512,500 loan being offered by the lender is based upon 70% loan-to-cost and 65% of As Renovated Value. The open prepayment structure allows maximum flexibility for the borrower should they wish to sell or recapitalize the loan early.
About Tower Capital:
Tower Capital was founded to enable owners of commercial real estate to achieve their investment goals with the least amount of time, energy, and cost, while creating surety of execution and peace of mind.
Established in 2015 and headquartered in Phoenix, Arizona, Tower Capital provides customized structured financing to investors throughout the United States. We specialize in debt and equity placement ranging from $2 Million to $100 Million and have financed over $500 Million for our clients since inception. We focus on independent financial advising with an entrepreneurial mindset, market vigilance and personalized attention to every client.