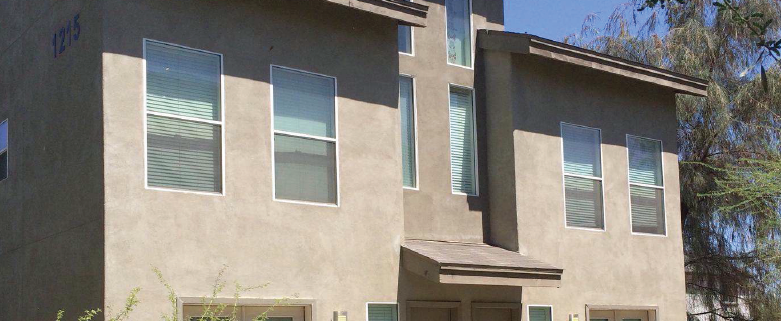 Luxury Lofts on Roosevelt – Phoenix, AZ
Loan Amount: $930,000
Purpose of Loan: Cash-Out Refinance
Capital Source: Bank
LTV: 70%
Term: 5 Years
Rate: 4.15%
Amortization: Years 1-2 Interest Only, followed by 25 Year Amortization
Prepayment: 3-2-1
Recourse
Transaction Details:
Luxury Lofts on Roosevelt is a boutique, condominium mapped, 8-unit in downtown Phoenix's Historic Roosevelt Row. The property was originally built in 2007 and is wood frame and stucco construction. Strong rental fundamentals have made downtown Phoenix a highly sought after area of metropolitan Phoenix. Luxury Loft on Roosevelt has a unique town home designed with granite counter tops, stainless steel appliances, and garages. The Denver based borrower purchased the asset in late 2014 and since their ownership has increased rents more than 40%, tightened up expenses and overall operations.
The $930,000 loan was secured by Tower Capital represents 70% loan-to-value. It offers the borrower a 5-year fixed rate term at 4.15%, with two-years interest only, and based on a 25-year amortization schedule. The borrower found the interest only payments along with the flexible prepayment schedule to be very attractive.
Tower Capital had a real hand's on approach with the refinance of this asset, as the borrower's goal was to recapture their initial equity in the deal. The borrower owns numerous small, well-located assets in the downtown Phoenix metro core.
About Tower Capital:
Tower Capital was founded to enable owners of commercial real estate to achieve their investment goals with the least amount of time, energy, and cost, while creating surety of execution and peace of mind.
Established in 2015 and headquartered in Phoenix, Arizona, Tower Capital provides customized structured financing to investors throughout the United States. We specialize in debt and equity placement ranging from $2 Million to $100 Million and have financed over $500 Million for our clients since inception. We focus on independent financial advising with an entrepreneurial mindset, market vigilance and personalized attention to every client.