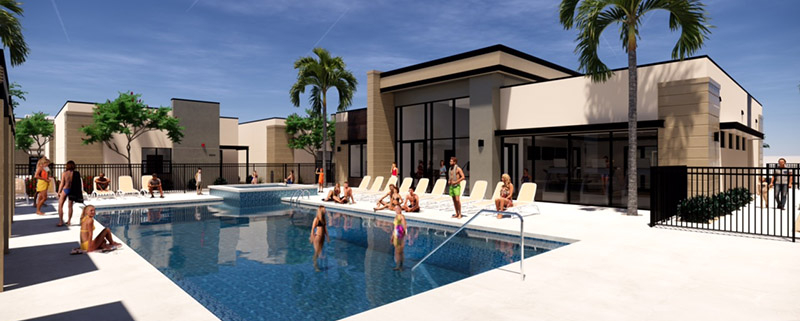 Elux at Deer Valley – Phoenix, AZ
Loan Amount: $44,500,000
Purpose: Construction Loan
Transaction Details:
Tower Capital successfully arranged construction financing for a 212-unit single family rental community totaling $44,500,000. Located at the southeast corner of 19th Avenue and Happy Valley Road, The Elux at Deer Valley development will feature a workout facility, clubhouse, a resort style pool, a dog park and a gated entrance. The units will feature premium countertops, stainless steel appliances, nine-foot ceilings, smart home technology and private yards. The first units will become available mid-2020.
Elux at Deer Valley is at the forefront of the new and rapidly growing asset class called single- family build-to-rent. The asset class is uniquely positioned between multifamily and single- family to provide a lifestyle for people who desire the privacy and backyard offered by single- family living. The asset class also appeals to renters who have grown accustomed to living independently and are looking to downsize in space from larger single-family homes often requiring more maintenance and upkeep.
The highly structured, non-recourse construction financing garnered tremendous interest from an array of capital sources, including banks, debt funds, institutional private equity, and other balance sheet lenders. Tower Capital's lending sources are currently seeking opportunities in multifamily and the single-family for-rent space. For more information, please contact Kyle McDonough at (480) 734-8180 or George Maravilla at (602) 697-5501.
About Tower Capital:
Tower Capital was founded to enable owners of commercial real estate to achieve their investment goals with the least amount of time, energy, and cost, while creating surety of execution and peace of mind.
Established in 2015 and headquartered in Phoenix, Arizona, Tower Capital provides customized structured financing to investors throughout the United States. We specialize in debt and equity placement ranging from $2 Million to $100 Million and have financed over $500 Million for our clients since inception. We focus on independent financial advising with an entrepreneurial mindset, market vigilance and personalized attention to every client.