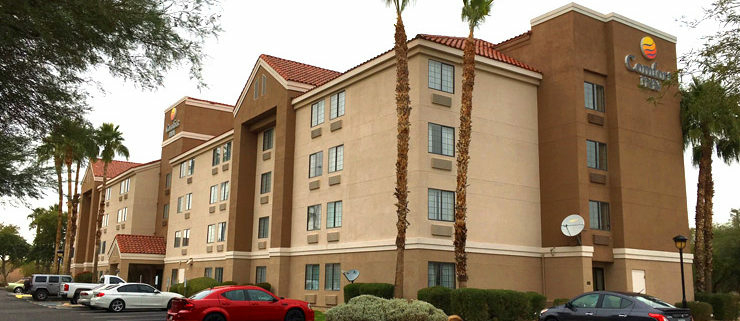 Comfort Inn – Chandler, AZ
Loan Amount: $5,600,000
Capital Source: Credit Union
Purpose of Loan: Acquisition
LTV: 73%
Term: 10 Year
Interest Rate: 4.5%
Amortization: 25 Years
Prepayment Penalty: None
Transaction Details:
The Comfort Inn is a 4-story, 129 key, limited service hotel built in 1997 and renovated in 2012. It is located in Chandler Arizona, conveniently situated at the intersection of the I-10 and Loop 202 freeways. The buyer is an established hotel owner/operator, based in California, with assets located in California, Arizona, and Canada. The property was purchased for $7.7 million, or $59,690 per key.
The $5.6 million dollar loan was secured by Tower Capital represents approximately 73% of the purchase price. It offers the borrower a 4.5% interest rate, fixed for 5 years, and is based on a 25 year amortization schedule and 10 year total term.
It was important to the borrower to have as much prepayment flexibility as possible so Tower utilized a relationship with a regional credit union that offers no prepayment penalty to its borrowers.
The loan was closed in 45 days.
About Tower Capital:
Tower Capital was founded to enable owners of commercial real estate to achieve their investment goals with the least amount of time, energy, and cost, while creating surety of execution and peace of mind.
Established in 2015 and headquartered in Phoenix, Arizona, Tower Capital provides customized structured financing to investors throughout the United States. We specialize in debt and equity placement ranging from $2 Million to $100 Million and have financed over $500 Million for our clients since inception. We focus on independent financial advising with an entrepreneurial mindset, market vigilance and personalized attention to every client.