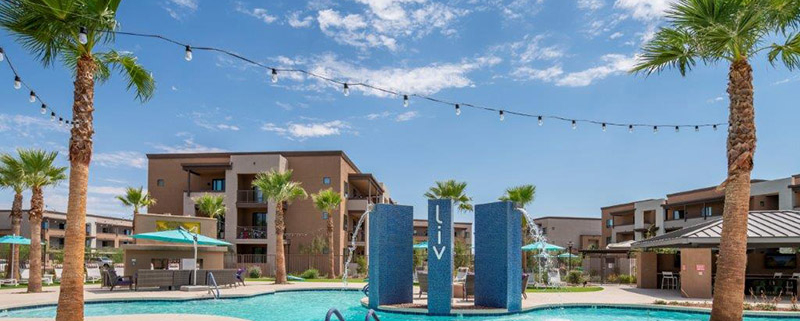 Class A Apartment Financing – Goodyear, AZ
Loan Amount: $60,500,000
Purpose: Acquisition Loan
Debt Fund
LTV: 80.67%
Rate: Sub-300 spread based off LIBOR
Amortization: Interest Only
Non-Recourse
Transaction Details:
Tower Capital has arranged the acquisition financing for a new class-A apartment community located in Goodyear, Arizona. The buyer's goal was to maximize their loan proceeds while still securing the lowest interest rate possible. The $60.5 million loan represents slightly more than 80% of the purchase price and provides an exceptionally low market interest rate with a sub-300 spread above LIBOR.
In order to secure the most aggressive terms in the marketplace, Tower ran a competitive bidding process using a broad scope of capital relationships. Since the newly constructed property just recently attained full occupancy, there is still loss-to-lease and concession burn-off to be completed before reaching stabilized NOI.  Tower worked closely with the borrower's property management team to provide rent and sale comps that allowed the lender to be comfortable using more aggressive proforma income and expense numbers. This strategy lead to a final loan amount that was $2.5 million more than was initially anticipated. In addition, Tower worked closely with the borrower's legal team throughout the closing process in order to ensure any liability to the borrower was minimized. The loan was completed in just a 45-day timeframe, which included the Thanksgiving holiday.
About Tower Capital:
Tower Capital was founded to enable owners of commercial real estate to achieve their investment goals with the least amount of time, energy, and cost, while creating surety of execution and peace of mind.
Established in 2015 and headquartered in Phoenix, Arizona, Tower Capital provides customized structured financing to investors throughout the United States. We specialize in debt and equity placement ranging from $2 Million to $100 Million and have financed over $700 Million for our clients since inception. We focus on independent financial advising with an entrepreneurial mindset, market vigilance and personalized attention to every client.