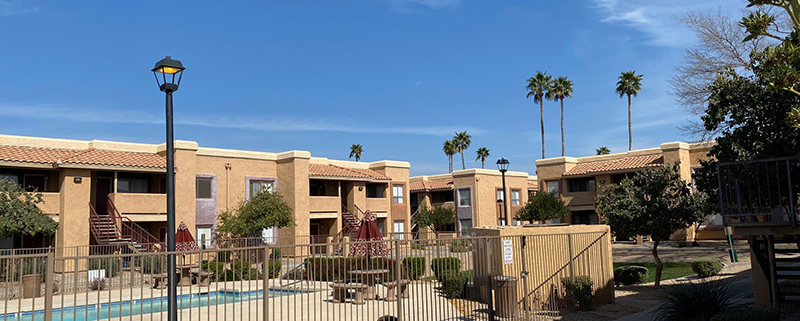 Affordable Housing Apartment Acquisition – Phoenix, AZ
Capital Source: Bank
Purpose of Loan: Acquisition
Loan Amount: $21,500,000
LTV: 75%
Rate: 3.25%
Term: 10 Years
Amortization: 2 Years Interest Only, followed by 30 Year Am
Prepayment: Stepdown
Recourse: Non-Recours
Transaction Details:
Tower Capital recently secured financing for a 400-unit, garden-style, multifamily property located in Phoenix, Arizona. Built in 1986, the community features gated-access, heated swimming pool, spa, basketball court, clubhouse with kitchen, business center, barbeque areas, on-site laundry facility, and covered parking. Currently, 100% of the units are encumbered by a Land Use Restriction Agreement (LURA) for the next 7 years, however, the majority of the units are not rented at the maximum allowable amount, providing a true off-market, value-add opportunity. The buyer was a highly experienced multi-family investor with more than 5,600 units under ownership throughout the southwestern United States.
The non-recourse bank loan provides the bower with a 10-year total loan term, fixed for the first 5 years at 3.25%, with two years interest only payments, followed by a 30-year amortization schedule. The step-down prepayment structure is a more flexible option then the Yield Maintenance and Defeasance found in Fannie Mae, Freddie Mac, and CMBS loans.
Despite the volatility in the markets caused by the COVID-19 pandemic, Tower was able to work quickly to facilitate the successful execution of the loan, with no changes to the loan terms from application through to final loan approval.
About Tower Capital:
Tower Capital was founded to enable owners of commercial real estate to achieve their investment goals with the least amount of time, energy, and cost, while creating surety of execution and peace of mind.
Established in 2015 and headquartered in Phoenix, Arizona, Tower Capital provides customized structured financing to investors throughout the United States. We specialize in debt and equity placement ranging from $2 Million to $100 Million and have financed over $1 Billion for our clients since inception. We focus on independent financial advising with an entrepreneurial mindset, market vigilance and personalized attention to every client.