RealShare National Investment & Finance Conference – Part 2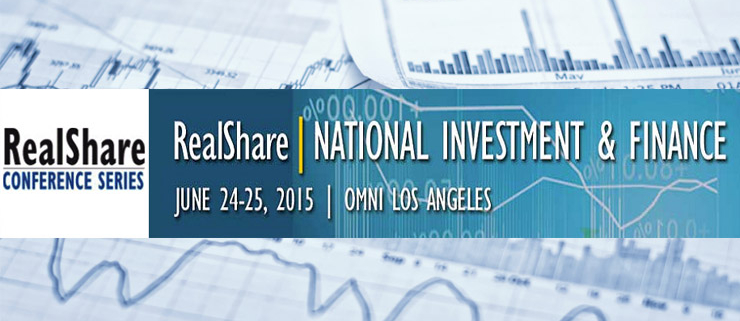 The afternoon sessions focused largely on the state of the economy and the drivers affecting it.
The opening RealShare National Investment & Finance Conference session was titled Power Panel: Direct from the C-Suite and was moderated by Lew Horne, President of CBRE Greater LA/Orange County Region. Panelists included Warren De Haan, Founder & Managing Partner of ACORE Capital; Ken Perry, President & CEO of The Swig Company; Fred Schmidt, President & COO at Coldwell Banker Commercial; Lydia Tan, SVP at Bentall Kennedy; and Thomas Whitesell, Managing Director at Capital Source.
Despite the geopolitical issues facing Europe, the Middle East, and Africa, the global markets have been strengthening overall. There was a 40% increase in investment activity from 2013 to 2014, with America responsible for about half the volume last year at $545 billion. The top 6 markets were London, Tokyo, San Francisco, Sydney, New York, and Dallas. The commercial real estate market in the US is benefitting largely from employment drivers in energy, education, medicine and technology.
Overall, most asset classes have seen gradual decreases in vacancy, however, each sector faces its own challenges. All time high stock market prices have helped the wealthy to become wealthier and at the same time the country's poor are provided with greater subsidies, which puts additional squeeze on the middle class and is illustrated through consumer shopping habits. Both high-end retailers as well as discount brands have seen revenues pick up, while those catering to the middle classes struggle. The shift from brick and mortar to online shopping by consumers is a dynamic continuing to affect the retail industry, causing less demand for traditional retail space. Retailers are shifting their focus towards supply chain and how to best accomplish same day fulfilment to their customers. Consequently, the industrial sector has benefitted from increased demand for warehouse and fulfilment centers. The office sector is facing challenges of its own. While it seems that a strengthening economy has ushered in new job growth, the average square foot per employee has decreased to 175 square feet, which has minimized space absorption to some extent. In multifamily, millennials will continue to be a driving force for the next 20 years as developers and property owners cater to their specific tastes, which include smaller unit sizes but with nicer finishes and a greater number of property amenities.
Overall across all sectors the debt markets seem to be driving valuations. Lenders are dropping their minimum debt yield requirements to win deals, which lead to additional loan proceeds and higher prices. The debt markets are providing investors with strong risk adjusted returns in comparison to other alternatives, such as the bond market. With capital readily available and looking to be deployed, the frothiness experienced in today's capital markets environment should continue for the foreseeable future. There was a consensus that some slowdown in capital might be healthy. The only reason why some deals are making sense for investors is because capital is so cheap and this causes inflated pricing. The last downturn was due in part to a lack of discipline by investors and there is a concern that the same mistakes are already being repeated.
The last panel of the day was In Search of Yield: The Outlook for Investment. The moderator was Michael Zietsman, Managing Director at JLL and the panel featured Geoff Davis, President of HREC Investment Advisors; Paul Feinstein, Managing Director of Wealth Management at UBS, Christopher Flick, SVP at PIMCO; and Lynn King-Tolliver, SVP at Heitman Capital Management.
Lynn King-Tolliver started the discussion by noting that the market overall is showing a healthy construction pipeline that seems to be in line with demand. She believes that the market has another 24 -36 months of growth before there is an adjustment, however it is uncertain what the trigger will be. Christopher Flick of PIMCO shared the sentiment that there is room to grow but is worried about the market's reaction to an increase in interest rates. The panel showed some agreement that when the next downturn does arrive, it will not be as long or as deep as what was experienced during the Great Recession. It was difficult to form a consensus on exactly where we are in the current cycle but one thing was certain – the USA is well ahead of Europe.
It is no secret that US-based institutions have been facing tremendous competition from foreign investors looking for a safe haven to plant their money, contributing to cap rate compression and increased property values. However, unlike in the past, foreign capital is not just sticking to gateway markets. They too are beginning to chase yield in secondary markets. Foreign investors also tend to gravitate towards office and hotel assets and are less comfortable in the multifamily space, as evidenced by much less foreign capital in that sector.
Despite a smaller turnout than expected, the RealShare National Investment & Finance Conference was informative and provided some solid networking opportunities. For part 1 of this blog, please click here.
https://towercapllc.com/wp-content/uploads/2015/07/TC-Image-10.jpg
350
740
admintower
https://towercapllc.com/wp-content/uploads/2020/04/Tower-Capital-Logo-copy.png
admintower
2015-07-21 15:02:25
2015-07-21 15:02:25
RealShare National Investment & Finance Conference – Part 2