22 Millennials to watch in CRE in 2019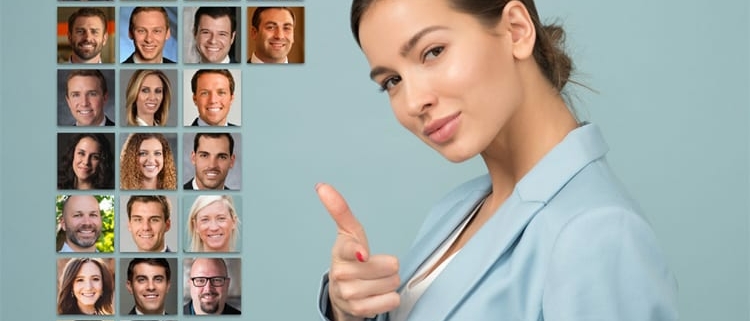 The new generation of commercial real estate professionals are like computer upgrades for the industry. These future leaders were still in school or just starting their careers when the market bottomed out nearly a decade ago. They watched how the market leadership guided their respective companies out of these rough waters and into calmer, more prosperous ones.
As the senior executives in the market reach the point where they're ready to step back and let the next generation take over, a generation of young professionals are ready to take on that challenge.
These are some of the professionals poised to upgrade the industry in Arizona and beyond.
Emilie Andrews
Senior marketing director, Vestar
Andrews envisions, directs and oversees the marketing for signature lifestyle center Tempe Marketplace, along with Vestar's entire Arizona portfolio of nine power centers. At Tempe Marketplace, Andrews executes more than 300 unique events, programs and art installations each year. Currently, Andrews serves as a member of the Tempe Tourism Office Board of Directors.
Casey Blais
Shareholder, Burch & Cracchiolo
Blais is a problem solver who has handled hundreds of commercial and residential property disputes, including abatement lien foreclosures. Blais served as president of the Young Lawyers Division of the Maricopa County Bar Association in 2014, he's been selected by Southwest Super Lawyers as a "Rising Star" from 2012-2018.
Jenna Borcherding
Office tenant advisor, JLL
Market knowledge, client commitment and old-fashioned hard work distinguish Borcherding as a rising star. As part of a top-ranked local tenant rep team, she has helped close more than 850,000 square feet of office leases, placing companies like Deloitte, DLA Piper and Serendipity Labs. Borcherding was the 2017 NAIOP Developing Leader of the Year and a 2018 NAIOP Board Member.
David Breen
Manager of tenant coordination, Macerich
Breen is currently working on Macerich's redevelopment of Scottsdale Fashion Square and was placed in the role due to his unique background in construction and education, earning a master's degree in Real Estate Development from Arizona State University. Breen is active in the community as a member of the Urban Land Institute's Young Leaders Group and Valley Partnership Advocates program.
Fred Bueler III
Project director, Chasse Building Team
Bueler earned his bachelor degree in civil engineering from ASU and has been in the building industry for 13 years, 10 with Chasse. Projects completed under Bueler's leadership include the full campus re-build of Frank Elementary School in Tempe; the development of shopping center Edison Point in Maricopa and redevelopment of Town & Country Shopping Center in Phoenix.
Tim Colquhoun
Vice president of corporate banking, National Bank of Arizona
Colquhoun supports public and privately traded companies with their financing needs in a variety of sectors. Tim joined NB|AZ in 2015 as a lender with over 10 years of banking experience. Tim is an Emerging Leader with the Arizona Bankers Association, an advisory board member for Arizona Microcredit Initiative, and active in NAIOP.
Chris Evanoff
Associate, Fennemore Craig, P.C.
After moving to the Valley from Ohio to work for two federal district judges, Evanoff ultimately worked on federal water policy issues affecting Phoenix. He brings these unique experiences to his real estate practice. Chris is active in Valley Partnership and serves as a board member for the Tom Londen Memorial Golf Tournament.
Adam Finkel
Principal, Tower Capital
During his career, Finkel has been involved in the successful placement of close to $1 billion in debt and equity financing on behalf of his clients throughout North America. He has a diverse background in both finance, as well as commercial real estate leasing and sales. He is actively involved with the Urban Land Institute (ULI) and National Association of Industrial and Office Properties (NAIOP).
Cooper Fratt
First vice president, CBRE
Fratt specializes in industrial sales and leasing and industrial tenant representation in metro Phoenix. In the last five years alone, he has closed more than 10 million square feet of combined lease and sale transactions, totaling nearly $806 million in value. Fratt has been heavily involved with NAIOP Arizona since his early days in commercial real estate. Fratt achieved the SIOR designation in 2018.
Carrie Garcia
Chief administrative officer, LGE Design Build
Garcia has been with LGE Design Build for more than 15 years. She started as a receptionist and has grown into her role as Chief Administrative Officer and trusted advisor to the president and CEO, David E. Sellers. Her passion for people and focus on empathy have made her a tremendous leader who cultivates a culture of growth and excellence.
Phil Haenel
Director, Cushman & Wakefield
In 2018, Haenel won the Emerging Broker of the Year Award for Cushman & Wakefield having sold more than 2 million square feet of industrial buildings with a total consideration of more than $82 million in 37 separate transactions in 2017. Phil is a member of a four man team made up of Mike Haenel, Andy Markham and Will Strong. In 2018, the team finished as the top industrial team in the Phoenix office.
April Lubenow
Project Engineer, UEB Builders
Lubenow's first development role has been spent as a project engineer for one of the first high-rise apartments to be built in downtown Phoenix (The Stewart). This is a massive undertaking — from the complex historical element of the Circles building at the project's base to overseeing a large-scale project amid a CRE labor shortage and spike in material costs.
Clare Lydon
Real estate representative, Opus Development Company, L.L.C.
Lydon assists with all aspects of development in the Phoenix metro area from site selection and due diligence through project lease up. She has nearly four years of commercial real estate experience, most recently as an associate real estate manager at ViaWest Group. With Opus, Lydon's experience includes working on Union Tempe and Longbow Gateway One.
Cullen Mahoney
Senior associate in Phoenix Business Unit, The Trammell Crow Company
Mahoney is involved in all facets of real estate development and investment from initial site acquisition and due diligence through project disposition. Mahoney's experience spans office, industrial, multi-family and mixed-use developments. He is also active in the Arizona chapter of NAIOP as a Developing Leader member and chair for the Young Professional Group.
Cassandra Nesheim
Field operations coordinator and executive assistant, Wespac Construction
Nesheim joined Wespac in January 2018 and has embraced the Wespac culture, going above and beyond as a true team player. Nesheim helps with recruiting, coordinates field operations for General Superintendent needs, monitors safety reports, daily superintendent reports, and also represents Wespac while assisting in Business Development ventures.
Kyle Orne
Associate, Quarles & Brady
Within the real estate realm, Orne handles all manners of real estate litigation including: disputes over leases, purchases and sale agreements, and title and lien issues; disputes between joint owners of real estate; and development disputes between owners, developers, and contractors. Before joining Quarles & Brady, Orne earned the top score in Arizona on the Arizona Bar Exam.
Nick Pemper
Senior project manager, Skanska USA
Pemper has a strong operation focus that allows him to thrive on projects with highly technical MEP systems and fast tracked schedules. Pemper is a LEED Green Associate (GA), which client's leverage to incorporate greener construction methods. When Nick is not at work, you'll find him with his wife and four kids all under the age of six.
Sarah Philippe
Business development, Sundt Construction
Philippe serves as the business development representative for Sundt Construction's Building Group, Southwest District. Philippe provides support to the district's project executives, project directors and regional directors in client engagement and community relations. Prior to joining Sundt, Philippe was the senior development manager, distinguished events for the American Cancer Society (ACS) in Phoenix.
Byron Sarhangian
Partner, Snell & Wilmer
Sarhangian serves as Co-Chair of Snell & Wilmer's Real Estate Practice Group and Opportunity Zone Industry Group. He has been ranked in Chambers USA: America's Leading Lawyers for Business® in Real Estate from 2015-2019 and in The Best Lawyers in America® for Real Estate Law in 2019. He is currently representing investors, fund sponsors and developers with respect to the Opportunity Zone Program.
Jordan Taylor
Finance, True North Studio
In 2014, Taylor successfully launched a real estate fund and raised all capital necessary to acquire properties all across the country. Taylor brought an infrastructure for property management to Phoenix-based True North Studio. Taylor's role at True North revolves around the oversight of all financial aspects of projects.
Vicente Terán
Project manager, Chasse Building Team
Terán has been involved in or is currently involved in the improvement and modernization of Town & Country; the modernization of Madison Meadows School, which won a Top Projects Award from Engineer News Record; the new campus build of Frank Elementary School; the modernization and gymnasium addition for Cheyenne Traditional School; San Tan Pavilions; and Edison Point.
Cole Woodward
Project manager, CORE Construction
Woodward is a key member of the CORE Construction team, currently leading a $40 million high school construction project from the ground-up in the East Valley. He has an impressive resume of other award-winning, multi-million-dollar projects, and also dedicates many hours of his free time to community service and philanthropic activity within the construction industry.
Each of these future leaders brings something different and unique to the market, making for a stronger industry. This next generation of professionals is more connected and industry-savvy than its predecessors, which means they will need to be inventive to make their ideas stand out.
The 22 people listed have already stood out among their peers by having a strong work ethic, a willingness to get involved in the community and displaying the personal characteristics that make good leaders. With these young professionals, the commercial real estate industry is in good hands moving forward.
View Article on Arizona Business magazine
https://towercapllc.com/wp-content/uploads/2019/01/millennials.0109.jpg
500
750
admintower
https://towercapllc.com/wp-content/uploads/2020/04/Tower-Capital-Logo-copy.png
admintower
2019-01-11 14:33:03
2019-01-11 14:33:03
22 Millennials to watch in CRE in 2019