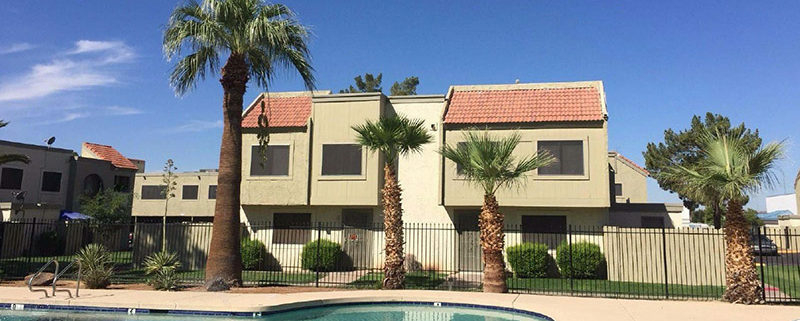 Villas West Condominiums – Glendale, AZ
Loan Amount: $1,787,500
Capital Source: Bank
Purpose of Loan: Acquisition
LTV: 65%
Term: 3 Years
Interest Rate: 5.5%
Amortization: 1st year interest only followed by 20 year amortization thereafter
Prepay: None
Transaction Details:
Villas West is a 285 unit condominium project, originally constructed in 1984, and is located at 4820 West Palo Verde Drive in Glendale, Arizona. Tower Capital's client acquired 51 of the total units for $2.75 million. The buyer assumed control of the HOA at acquisition and will be installing their own property management. The buyer is a local investor with other Phoenix assets, including single family rentals, apartment buildings, and condos.
Given the smaller size of the loan and minimal percentage of the total complex being acquired, financing options for Villas West were limited. Not qualifying for an agency or CMBS execution, Tower Capital leveraged its relationship with a local bank to secure acquisition financing based upon 65% LTV and an initial 5.5% interest rate. The loan offers interest only payments for the first year, helping the borrower's cash flow as they put new management in place and replace some of the existing tenants. In addition, a partial release clause allows the borrower to sell the units individually with no prepayment penalty. 
About Tower Capital:
Tower Capital was founded to enable owners of commercial real estate to achieve their investment goals with the least amount of time, energy, and cost, while creating surety of execution and peace of mind.
Established in 2015 and headquartered in Phoenix, Arizona, Tower Capital provides customized structured financing to investors throughout the United States. We specialize in debt and equity placement ranging from $2 Million to $100 Million and have financed over $500 Million for our clients since inception. We focus on independent financial advising with an entrepreneurial mindset, market vigilance and personalized attention to every client.