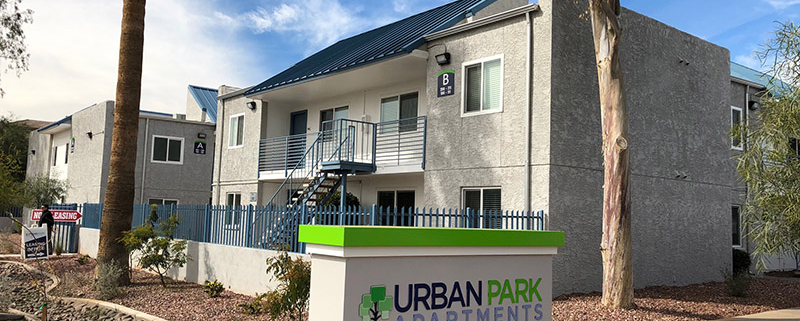 Urban Park – Phoenix, AZ
Loan Amount: $10,500,000
Purpose: Bridge-Construction
Capital Source: Finance Company
LTV: 75%
Term: 2 Years + 1 YR Ext.
Rate: LIBOR + 350
Prepay: 12 Months Min Interest
Non-Recourse
Transaction Details:
Urban Park is a 104-unit, garden style apartment complex located at 948 E Devonshire Ave, Phoenix, AZ 85016. The unit mix consists of 96 one-bedroom units and 8 two-bedroom units. The surrounding market, the Central Avenue corridor, is incredibly attractive to millennials due to the neighborhood amenities and local nightlife.  The property was built in 1980 and is individually metered for electricity and master metered for water. Chamberlin & Associates manages the property and will continue to manage the property.
Tower Capital's client, a Denver-based commercial real estate development and investment company, is experienced in the multifamily value add and multifamily ground up development spaces, having completed several successful value-add repositioning's and multifamily ground up construction deals. The principals of the company have decades of combined experience in the real estate sector, including large scale single family residential development.
The sponsor acquired the property in November 2017 and initially planned on doing a moderate value-add renovation, however following the purchase of the asset, the disposition of several varying value-add strategies in the submarket and surrounding area occurred.  This provided additional real-time insight into the market and the specific tenant profile the borrower is trying to attract, as well as what the exit buyer profiles' preferences are as well.  Through this fluid analysis they determined it was in best interest of the project to increase their level of scope substantially in order to present the best possible value proposition to both the target tenant profile and exit buyer profile.
Tower Capital was able to recapitalize the sponsor by replacing their existing high interest acquisition loan, inject funds to cover the increased capex budget, and also provide equity back to the sponsor.
About Tower Capital:
Tower Capital was founded to enable owners of commercial real estate to achieve their investment goals with the least amount of time, energy, and cost, while creating surety of execution and peace of mind.
Established in 2015 and headquartered in Phoenix, Arizona, Tower Capital provides customized structured financing to investors throughout the United States. We specialize in debt and equity placement ranging from $2 Million to $100 Million and have financed over $500 Million for our clients since inception. We focus on independent financial advising with an entrepreneurial mindset, market vigilance and personalized attention to every client.