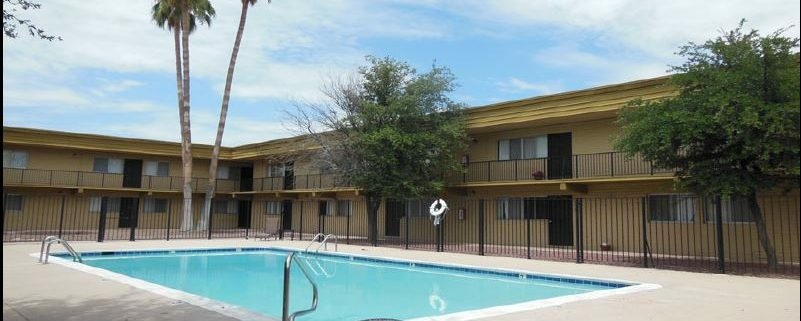 Tierra Luna & Tierra Sol Apartments – Tucson, AZ
Loan Amount: $1,785,000
Capital Source: Credit Union
Purpose of Loan: Acquisition
LTV: 65%
Term: 5 Years
Amortization: 25 Years
Interest Rate: 4.25% fixed
Prepayment: None
Recourse
Transaction Details:
Tierra Luna (48 units) and Tierra Sol (40 units) is an 88-unit multifamily asset located in Tucson, Arizona. The properties were built in 1971 and 1970 respectively. The community features 4 studio units, 8 one-bedroom units, 20 two-bedroom units, and 56 three-bedroom units. It offers residents amenities such as community swimming pools, multiple laundry facilities, and a barbeque area.
Tower Capital's client, an experienced California-based investor, has acquired the property. Tower successfully secured the 5-year, 4.25% fixed rate loan through a local Credit Union on behalf of the buyer. The waived prepayment penalty provides the borrower with the flexibility to sell the property upon stabilization of the asset, or refinance the property for a return of equity.
Challenges:
The age of the property, submarket location, small loan size, and historically low occupancy (less than 80%) limited the lender pool significantly. By utilizing and leveraging Tower Capital's lender relationships and highlighting the borrower's real estate resume, our client was able to bypass the need for a costly bridge loan.
About Tower Capital:
Tower Capital was founded to enable owners of commercial real estate to achieve their investment goals with the least amount of time, energy, and cost, while creating surety of execution and peace of mind.
Established in 2015 and headquartered in Phoenix, Arizona, Tower Capital provides customized structured financing to investors throughout the United States. We specialize in debt and equity placement ranging from $2 Million to $100 Million and have financed over $500 Million for our clients since inception. We focus on independent financial advising with an entrepreneurial mindset, market vigilance and personalized attention to every client.