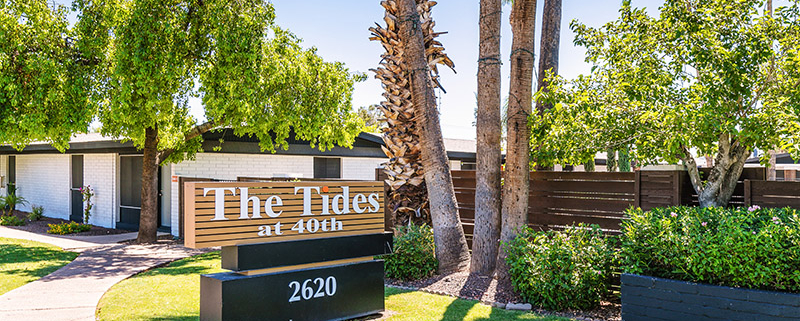 Tides on 40th – Phoenix, AZ
Loan Amount: $5,180,000
Purpose: Acquisition
Capital Source: Fannie Mae
LTV: 80%
Term: 12 Years
Rate: 4.02%
Prepay: Yield Maintenance
Non-Recourse
Transaction Details:
Tides on 40th is a 43-unit multifamily property located in the "Arcadia Lite" submarket of Phoenix, Arizona. The property is comprised of block construction and has a master chiller for air conditioning and boiler for hot water. The asset was completely repositioned and rebranded by the seller between 2017 and 2018, which included new exterior paint, landscaping, and signage throughout the project, as well as a programmatic interior renovation package for the units that offers tenants new vinyl plank flooring, quartz countertops, and shaker cabinets and vanities.
Tower Capital's client, an experienced, local, multi-family investor, acquired the property utilizing the Fannie Mae Green loan program which provided a 4.02% non-recourse loan, fixed for 12 years, and based upon a 30-year amortization schedule.
The borrower plans to continue to increase the properties value through additional interior unit upgrades in the bathrooms, as well as create over 30% energy savings by replacing the boiler and chiller systems, as well as installing programmable digital thermostats, more energy efficient lighting, shower heads, and faucet aerators, to name a few.
About Tower Capital:
Tower Capital was founded to enable owners of commercial real estate to achieve their investment goals with the least amount of time, energy, and cost, while creating surety of execution and peace of mind.
Established in 2015 and headquartered in Phoenix, Arizona, Tower Capital provides customized structured financing to investors throughout the United States. We specialize in debt and equity placement ranging from $2 Million to $100 Million and have financed over $500 Million for our clients since inception. We focus on independent financial advising with an entrepreneurial mindset, market vigilance and personalized attention to every client.