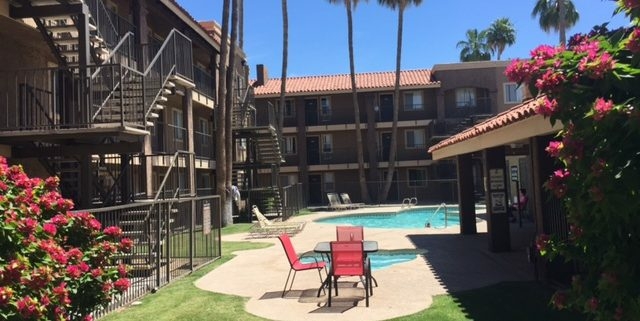 Tamarak Gardens – Phoenix, AZ
Loan Amount: $5,425,000
Purpose of Loan: Cash-out Refinance
Capital Source: Fannie Mae
LTV: 68%
Term: 10 Years
Rate: 4.49%
Amortization: 30 Years
Prepay: Yield Maintenance
Non-Recourse
Transaction Details:
Tamarak Gardens is a 144-unit apartment project located in Phoenix, Arizona. It was originally built in 1984 and has a unit mix consisting of studio, one, and two-bedroom units. Amenities include community swimming pool and spa, clubhouse, and onsite laundry facilities.
The property was acquired by the borrower, an experienced private investor, in December 2014. At the time of purchase, the property suffered from above market vacancy and a very poor tenant composition. Under new ownership, the property has flourished, with both occupancy and NOI reaching peak levels.
The long term, fixed rate loan, secured through Fannie Mae, provided the borrower with a significant cash-out, which will be used to deliver equity back to investors and provide capital to re-invest in additional opportunities.
About Tower Capital:
Tower Capital was founded to enable owners of commercial real estate to achieve their investment goals with the least amount of time, energy, and cost, while creating surety of execution and peace of mind.
Established in 2015 and headquartered in Phoenix, Arizona, Tower Capital provides customized structured financing to investors throughout the United States. We specialize in debt and equity placement ranging from $2 Million to $100 Million and have financed over $500 Million for our clients since inception. We focus on independent financial advising with an entrepreneurial mindset, market vigilance and personalized attention to every client.