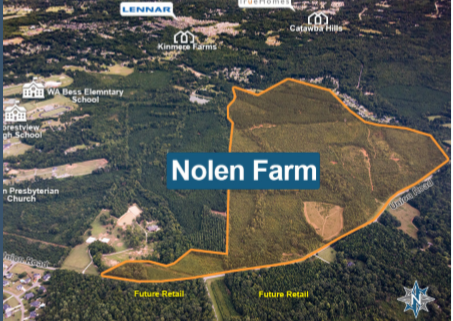 Suncrest REALOP – Gastonia, NC
Capital Source: Institutional Private Equity
Purpose of Loan: Acquisition and development
Financing Amount: $12,400,000
Transaction Details:
Tower Capital and Affiliates were successful in introducing its client, Suncrest REALOP, to an institutional private equity group which resulted in $12,400,000 in joint venture equity financing for the acquisition and development of a 245-acre parcel in Gastonia, NC.  The parcel is vacant and unimproved land that is currently zoned for +/-760 single family and townhome lots.  The community will feature a 2,500 square foot clubhouse, a junior Olympic pool, splash pool and sport courts with a trail system that will connect through to adjacent properties.
Suncrest is a residential master developer and investment manager with the expertise, experience and market reach to source exclusive and strategic real estate development opportunities in select markets throughout the United States, while providing custom tailored, high yielding investments to investors.
About Tower Capital:
Tower Capital was founded to enable owners of commercial real estate to achieve their investment goals with the least amount of time, energy, and cost, while creating surety of execution and peace of mind.
Established in 2015 and headquartered in Phoenix, Arizona, Tower Capital provides customized structured financing to investors throughout the United States. We specialize in debt and equity placement ranging from $2 Million to $100 Million and have financed over $500 Million for our clients since inception. We focus on independent financial advising with an entrepreneurial mindset, market vigilance and personalized attention to every client.