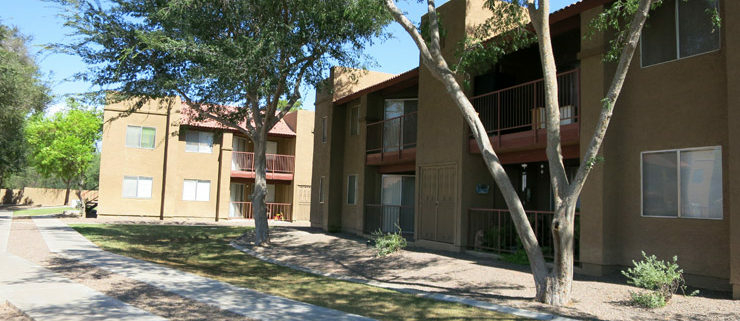 South Mountain Square – Phoenix, AZ
Loan Amount: $4,750,000
Capital Source: Freddie Mac
Purpose of Loan: Refinance
LTC: 75%
Term: 7 Years
Rate: L + 265
Amortization: 1 Year Interest Only Followed By 30 Years For The Remaining Term
Prepayment: 1 Year Lockout Followed By 1% For Years 2 – 6.5
Non-Recourse
Transaction Details:
South Mountain Square is a 117 unit "B" class multifamily property built in 1986 and located in Phoenix Arizona. The borrower acquired the property in 2013 through a distressed note purchase and has successfully executed a business plan that has stabilized the property and increased operational performance substantially. A number of capital improvements have been performed to the property which include replacement of the HVAC units, resurfacing the parking lot, landscaping, plumbing, pool remodel, and unit interior renovations. The interior of the units feature new cabinetry, countertops, interior paint, and appliances. The borrower is an experienced, local, full service real estate investment firm that owns and operates a variety of real estate assets throughout the Phoenix metropolitan area including land, single family residential, multifamily, hotel, and office properties.
The $4,750,000 loan allowed the borrower to recoup the costs of the capital improvements and provide a return of equity back to its investors. The new lower interest rate provides greater cash flows and returns to the borrower moving forward.
About Tower Capital:
Tower Capital was founded to enable owners of commercial real estate to achieve their investment goals with the least amount of time, energy, and cost, while creating surety of execution and peace of mind.
Established in 2015 and headquartered in Phoenix, Arizona, Tower Capital provides customized structured financing to investors throughout the United States. We specialize in debt and equity placement ranging from $2 Million to $100 Million and have financed over $500 Million for our clients since inception. We focus on independent financial advising with an entrepreneurial mindset, market vigilance and personalized attention to every client.