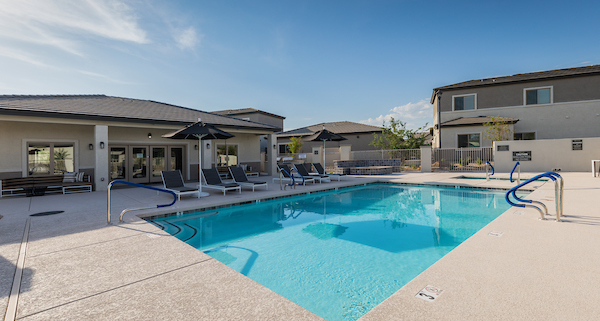 Single-Family Build-To-Rent – Phoenix, AZ
Loan Amount: $23,000,000
Purpose: Cash-Out Refinance
Capital Source: Debt Fund
LTV: 67%
LTC: 94%
Term: 12 Months
Interest Rate: L+450
Amortization: Interest Only
Prepayment: 6 Months
Transaction Details:
Elux at Tramonto is newly built 138-unit, Class A single family rental home community located in Phoenix, AZ.   The property features a mix of one, two and three-bedroom units, across three different floor plans.  The bridge loan arranged by Tower Capital closed in 15 business days and allowed the borrower to pay off their construction lender and finance 96% of their total development cost.
The sponsor, Snowdon Residential, is a highly experienced privately held real estate investment and development firm headquartered in Scottsdale, Arizona. With over 60 years of residential real estate and investment experience between its principals, Snowdon is well versed in the complexities associated with ground-up development. The Snowdon management team has experience building over 3,000 homes. The company specializes in acquiring and developing prime residential real estate communities throughout the Southwest. The General Contractor was Hancock Communities, which has experience building over 25,000 single family homes. The architect was Kevin Bollinger of BCA, which has completed thousands of construction projects since its formation in 1973.
Leasing began in June of 2018 and as of 10/31, the property was 68% leased.  At a rate of 20-units per month (run rate since inception), they will be fully occupied well before current projections. Alliance Residential currently manages the project and is the largest private US Multi-family developer in the country. The company manages a $15 billion portfolio of 100,000+ units.
Elux at Tramonto is at the forefront of new and rapidly growing asset class called single family build for rent. The asset class is uniquely positioned between multifamily and single family to take advantage of older millennials who want the privacy and a yard that single family living offers, but who can't put down a down payment for a home just yet. The asset class is also perfect for empty nesters who have grown accustomed to living independently, but don't need all the space that they once did. Rents in Single Family for Rent Communities demand a 15% to 30% rent premium above equivalent-sized apartments or "one-off" SFR rental homes located in traditional for-sale neighborhoods.
About Tower Capital:
Tower Capital was founded to enable owners of commercial real estate to achieve their investment goals with the least amount of time, energy, and cost, while creating surety of execution and peace of mind.
Established in 2015 and headquartered in Phoenix, Arizona, Tower Capital provides customized structured financing to investors throughout the United States. We specialize in debt and equity placement ranging from $2 Million to $100 Million and have financed over $500 Million for our clients since inception. We focus on independent financial advising with an entrepreneurial mindset, market vigilance and personalized attention to every client.