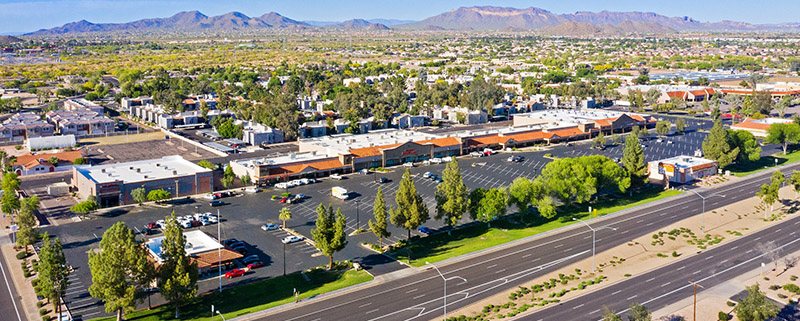 Unanchored Multi-Tenant Retail Financing – Mesa AZ
Loan Amount: $3,816,000
Purpose: Acquisition
Capital Source: Bank
LTV: 60%
Term: 5Yr Fixed
Rate: 4.75%
Amortization: 20 Years
Recourse: Limited Recourse
Prepay: Step Down
Transaction Details:
Tower Capital has recently arranged financing for a 94,094 SF multi-tenant retail property located in Mesa, Arizona. The borrower was an experienced investor based in Canada.  Tenants include local favorites like Denim and Diamonds, Main Street Antique Mall, Carbajal's Mexican Restaurant and more.  The 14-suite space was 96% occupied at closing.
Sun Valley Plaza started off as a shopping center anchored by a grocery and a drug store, with a movie theater next door.  The property was 16% occupied and boarded up when the seller acquired it 15 years ago.  Since then, the seller's goal was to turn the asset into an Amazon resistant property. 
In today's environment lenders are leaning away from unanchored, multi-tenant retail properties with limited concentration of "credit" tenants so the characteristics of the asset itself presented a major challenge and limited the lending pool greatly. Additionally, the foreign sponsor had never borrowed money in the US. Despite the hurdles, Tower was able to present the loan in a manner that highlighted the borrower's track record in Canada and the US, and present the transaction in such a way that made the lender comfortable.
About Tower Capital:
Tower Capital was founded to enable owners of commercial real estate to achieve their investment goals with the least amount of time, energy, and cost, while creating surety of execution and peace of mind.
Established in 2015 and headquartered in Phoenix, Arizona, Tower Capital provides customized structured financing to investors throughout the United States. We specialize in debt and equity placement ranging from $2 Million to $100 Million and have financed over $700 Million for our clients since inception. We focus on independent financial advising with an entrepreneurial mindset, market vigilance and personalized attention to every client.