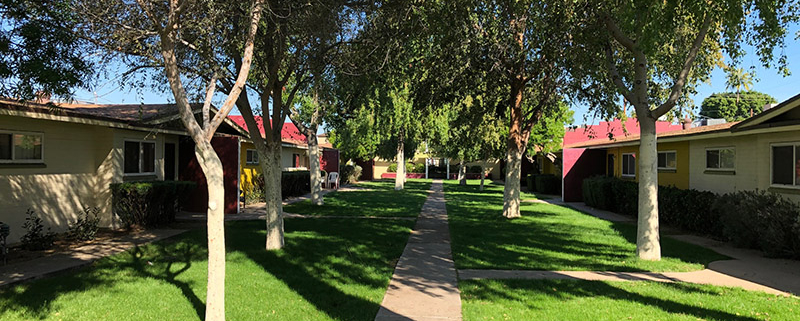 Multifamily Reposition Financing – Phoenix, AZ
Loan Amount: $2,984,000
Purpose: Acquisition Loan
Capital Source: Private Debt Fund
LTC: 83%
Term: 24 Months
Rate: 6.99%
Amortization: Interest Only
Prepay: None
Non-Recourse
Transaction Details:
Tower Capital has arranged a $2,984,000 acquisition bridge loan to reposition a 33-unit, C-class, multifamily property in Phoenix, Arizona. The loan represents 83% of total project cost at a competitive 6.99% fixed interest rate. No interest reserve was required and the lender's capital improvements funds go in before the borrower's, limiting the amount of equity the sponsor had to contribute at close.
The single-story apartment community is located in a desirable West Central Phoenix neighborhood and was originally completed in 1963. All units are 860 square-foot 2BD/1BA units and are individually metered for electricity. Interior unit features include kitchens with full-size appliances, ceiling fans, spacious dual walk-in closets and private patios with block walls. The two-building property is situated on a single tax parcel of approximately 2.28 acres and is landscaped with turf, mature shade trees and low maintenance desert plants. Exterior amenities include large attractive courtyards and a swimming pool.
The community has been owned and operated by the same local owner for over 40-years and provided a nice repositioning opportunity for the buyer, who is an experienced, local investor. The plan is to complete capital improvements to the units as leases roll, over the course of approximately one (1) year. Interior renovations will include new windows, doors, cabinets, countertops, flooring, appliances, AC units, and electrical panels for all units. Exterior renovations will include landscape and patio upgrades, new fencing, and some minor repairs for deferred maintenance to the roof. There is currently a 34th unit at the property being operated as a leasing office and laundry facility. The borrower plans to convert this to a 34th revenue unit only after the washer/dryer package has been put into the other 33 units and significant lease-up has been achieved. The total project budget is estimated close to $400,000.
About Tower Capital:
Tower Capital was founded to enable owners of commercial real estate to achieve their investment goals with the least amount of time, energy, and cost, while creating surety of execution and peace of mind.
Established in 2015 and headquartered in Phoenix, Arizona, Tower Capital provides customized structured financing to investors throughout the United States. We specialize in debt and equity placement ranging from $2 Million to $100 Million and have financed over $700 Million for our clients since inception. We focus on independent financial advising with an entrepreneurial mindset, market vigilance and personalized attention to every client.