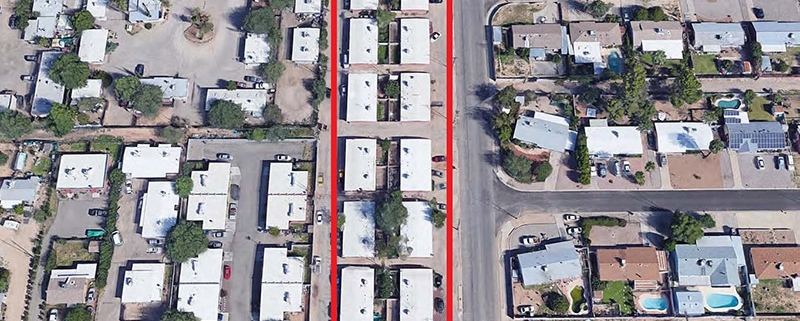 Multifamily Acquisition Financing – Tucson, AZ
Capital Source: Fannie Mae
Purpose of Loan: Acquisition Financing
Loan Amount: $1,272,000
LTV: 65%
Rate: 3.58%
Term: 10 Years
Amortization: 5 Years Interest Only followed by 30 Years
Prepayment: Yield Maintenance
Recourse: Non-Recourse
Transaction Details:
Tower Capital has secured a $1,272,000 acquisition loan on behalf of its client, a local, private investor.  The property, located in Tucson, Arizona, consists of 24 units and is comprised of twelve, single-story, duplex, brick construction buildings on two tax parcels. All units are 2bd/1ba averaging 730 square feet. Units have a walled back yard with washer/dryer hookups.
The Fannie Mae Small Balance Loan provides the borrower with 65% LTV and a low 3.58% rate, fixed for 10 years. Additionally, 5 years of interest only payments allow the borrower to optimize their cash flow and provide funds for ongoing capital improvements.
The borrower had initially engaged Freddie Mac for a small balance acquisition loan at 75% LTV at a 4.18% fixed interest rate, however, at the 11th hour Freddie decided to deny the loan due to a non-conforming tenant concentration. With only two weeks before the closing deadline, Tower was able to quickly shift gears and switch the loan over to Fannie Mae with an aggressive DUS lender with whom we have closed numerous loans. All 3rd party reports were assigned over and Tower's transaction team worked expeditiously to transfer all the data onto the Fannie Mae loan forms. A 15-day extension was obtained by the borrower, and the new Fannie loan was completed in a few weeks. Although lower leverage than the original Freddie Mac loan, the new loan offered a much lower interest rate, along with two additional years of interest only payments.
Client Testimonial
"I know you certainly didn't plan on your having to take the role and put forth the effort you did on this one, but thank you for doing so. Without you I am sure it wouldn't have had the same outcome. Your tenacity, guidance and patience were appreciated from the start to the finish.
Thank you so much, and we look forward to doing the next one with you."
About Tower Capital:
Tower Capital was founded to enable owners of commercial real estate to achieve their investment goals with the least amount of time, energy, and cost, while creating surety of execution and peace of mind.
Established in 2015 and headquartered in Phoenix, Arizona, Tower Capital provides customized structured financing to investors throughout the United States. We specialize in debt and equity placement ranging from $2 Million to $100 Million and have financed over $1 Billion for our clients since inception. We focus on independent financial advising with an entrepreneurial mindset, market vigilance and personalized attention to every client.