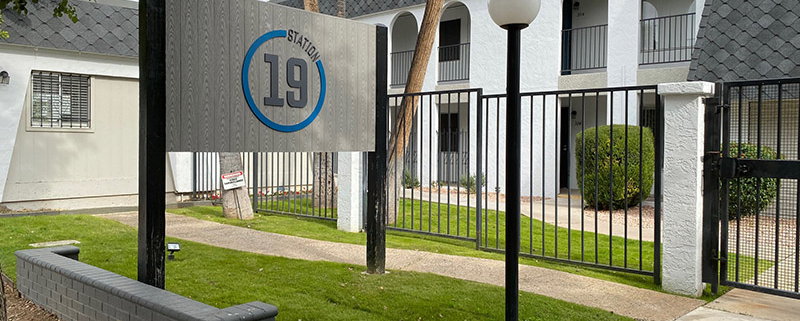 Permanent Financing for Newly Renovated Apartments – Phoenix, AZ
Loan Amount: $7,350,000
Purpose: Acquisition Loan
Capital Source: Bank
LTV: 73%
Term: 10 years
Rate: 4.05%
Amortization: Interest Only years 1-3, followed by amortizing
Prepay: Stepdown
Recourse with burn-off
Transaction Details:
Tower Capital has arranged a $7,350,000 acquisition loan for a newly renovated, 61-unit, multifamily property located in Phoenix, Arizona. Built in 1968, the property underwent a complete repositioning in 2019, and offers some additional value-add potential through completing the installation of washer/dryers in over 60% of the units.  The 10-year fixed rate loan offers the borrower a competitive rate, and the interest only payments provide additional cash flow to cover the installation of the washer/dryers during the first few years of the loan.
Challenge:
In today's cutthroat environment, buyers must look for any angle in order to gain a leg up on the competition. Sometimes that involves tying up a property before it goes to market. In this case, the northern California-based investor was able to negotiate a purchase price, based on proforma operating numbers, while the property was still in lease-up. Given the leasing velocity, the lender agreed to issue a formal LOI while the property was 83% occupied, under the stipulation that reached at least 90% occupancy prior to close. Furthermore, Tower Capital was able to convince the lender to increase the loan amount by over $300,000 once the final operating numbers came in. 
About Tower Capital:
Tower Capital was founded to enable owners of commercial real estate to achieve their investment goals with the least amount of time, energy, and cost, while creating surety of execution and peace of mind.
Established in 2015 and headquartered in Phoenix, Arizona, Tower Capital provides customized structured financing to investors throughout the United States. We specialize in debt and equity placement ranging from $2 Million to $100 Million and have financed over $1 billion for our clients since inception. We focus on independent financial advising with an entrepreneurial mindset, market vigilance and personalized attention to every client.