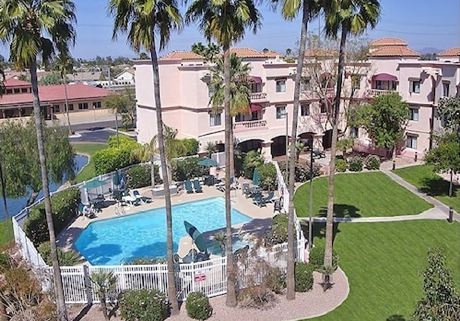 Limited Service Hotel Financing – Surprise, AZ
Loan Amount: $7,447,392
Purpose: Refinance Loan
Bank Loan
Stabilized LTV: 67%
Rate: 4.75%
Term: 10 Years (5+5)
Amortization: 25 Years
Recourse
Transaction Details:
Tower Capital secured $7,447,392 for the refinance of a 126-Key limited service hotel located in Surprise, Arizona.  The subject property is operated as the Ascend Collection Windmill Suites Surprise.  The improvements were constructed in 1988 and were renovated in 2018/2019, which included upgrading all of the common areas, addition of a sundry shop, renovation of all guest rooms/bathrooms and exterior remodeling.  The property currently provides such amenities as an outdoor pool, complimentary breakfast, meeting space, fitness center, sundry shop, guest laundry and a small bar that will serve beer.  
The hotel is located 20 minutes' drive from University of Phoenix Stadium, Luke Air Force Base and 25 minutes' drive from Wildlife World Zoo.  The loan was sized to 77% of the sponsors cost basis and 67% of stabilized LTV.
Tower Capital's client, a Canadian-based hotel operator with 21 hotels in their portfolio has decades of experience in hotel management and renovations.  The 10 year loan secured by Tower Capital has a fixed interest rate of 4.75% for the first 5 years and then adjust to the 5 year treasury plus 300 basis points with a floor of 4.50% for the second 5 year term. 
About Tower Capital:
Tower Capital was founded to enable owners of commercial real estate to achieve their investment goals with the least amount of time, energy, and cost, while creating surety of execution and peace of mind.
Established in 2015 and headquartered in Phoenix, Arizona, Tower Capital provides customized structured financing to investors throughout the United States. We specialize in debt and equity placement ranging from $2 Million to $100 Million and have financed over $700 Million for our clients since inception. We focus on independent financial advising with an entrepreneurial mindset, market vigilance and personalized attention to every client.