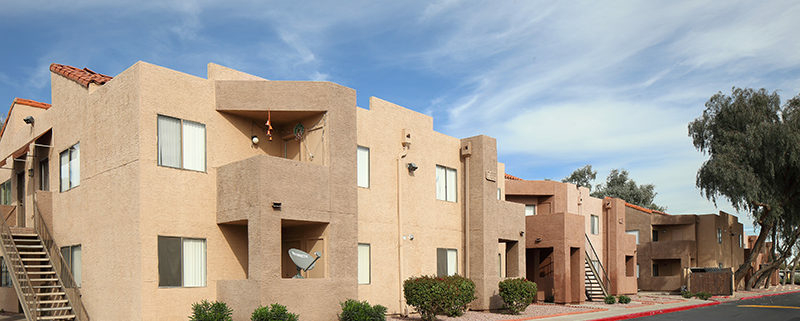 Desert Wind Apartments – Phoenix, AZ
Loan Amount: $10,250,000
Purpose of Loan: Acquisition
Capital Source: Fannie Mae
LTV: 77%
Term: 12 Years
Rate: 4.5%
Amortization: 30 Years
Interest Only: 1 Year
Prepay: Yield Maintenance
Non-Recourse
Transaction Details:
Desert Wind is a 288-unit, class B, apartment project located in Phoenix, Arizona. The property was constructed in 1986 and has undergone a partial renovation by the seller which includes: office remodel, updated/repaired swimming pool, perimeter fencing/masonry walls, landscaping, paint, and monument sign. Tower's client is an experienced, Southern California-based, private investor with a portfolio consisting of approximately 5,000 multifamily units throughout the southwestern US.
Given the property's high occupancy and the availability of today's very low, long term, fixed rate financing, the borrower acquired the asset by utilizing a non-recourse 12-year Fannie Mae loan which offers a 30-year amortization and 1 year of interest only payments, increasing year 1 cash flow, and providing funds to be reinvested back into the property through a value-add strategy.
The borrower will continue to perform exterior renovations to common area amenities, as well as update the interior of the units, allowing them to increase rents, NOI, and value.
About Tower Capital:
Tower Capital was founded to enable owners of commercial real estate to achieve their investment goals with the least amount of time, energy, and cost, while creating surety of execution and peace of mind.
Established in 2015 and headquartered in Phoenix, Arizona, Tower Capital provides customized structured financing to investors throughout the United States. We specialize in debt and equity placement ranging from $2 Million to $100 Million and have financed over $500 Million for our clients since inception. We focus on independent financial advising with an entrepreneurial mindset, market vigilance and personalized attention to every client.