Class A Flex Industrial Acquisition and Renovation, Scottsdale, AZ
Capital Source: Bank
Purpose of Loan: Acquisition and Renovation
Loan Amount: $6,800,000
LTV: 80%
Rate: 3.75%
Term: 15 Years
Amortization: 1Yr IO / 14 Year AMT
Prepayment: Step Down – 3-2-1
Recourse: Full Recourse
Transaction Details: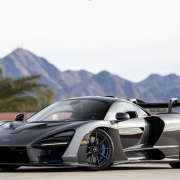 Tower recently arranged $6.8 million in long-term, fixed rate debt on behalf of McLaren Scottsdale and Mike Ward Automotive. Tower's client was seeking to expand from a 7,500 SF location in the Scottsdale Airpark, to a larger 35,000 SF building that will allow them to expand their operation by holding more inventory and having a increased service capacity. Tower Capital was able to finance the $5.5MM acquisition and $3MM rehab with an 80% loan-to-value permanent loan from a regional bank.
Built in 1999, the ±34,768 SF property sits on 3.02 acres (±131,555 SF) of I-1 zoned land. Some property features include 16' clear height to the truss, three (3) dock high roll up doors, one (1) grade level door and 1200 AMPS, 277/480 Volts, 3 Phase Power.
The $6.8 million loan represents 80% loan-to-value and offered a 3.75% fixed interest rate for 15 years, based on one year of interest only payments and then a 14-year amortization schedule.
This assignment was especially challenging because the ideal financing program would have been SBA, however at this time the franchise is not approved. The buyer reached out to Tower Capital and within a couple of weeks had 2 competitive options which were able to offer a similar structure to the higher leverage SBA financing. Additionally, this regional bank will be an important business partner for the dealership as it seeks to expand into other markets.
About Tower Capital:
Tower Capital was founded to enable owners of commercial real estate to achieve their investment goals with the least amount of time, energy, and cost, while creating surety of execution and peace of mind.
Established in 2015 and headquartered in Phoenix, Arizona, Tower Capital provides customized structured financing to investors throughout the United States. We specialize in debt and equity placement ranging from $3 Million to $300 Million and have financed over $1.3 Billion for our clients since inception. We focus on independent financial advising with an entrepreneurial mindset, market vigilance and personalized attention to every client.