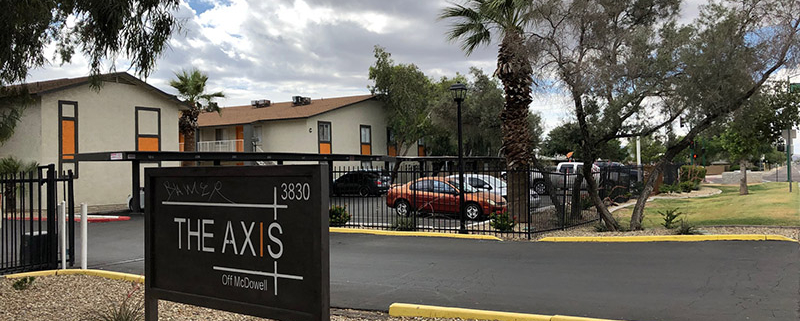 Axis off McDowell – Phoenix, AZ
Loan Amount: $5,625,000
Purpose: Refinance
Capital Source: CMBS
LTV: 75%
Term: 10 Years
Rate: 4.06%
Amortization: 30 Years
Interest Only: 3 Years
Prepay: Defeasance
Non-Recourse
Transaction Details:
The Axis off McDowell is a 72-unit garden-style apartment complex located in Phoenix, Arizona. The property features a swimming pool, a laundry facility, and controlled access on a 2.22 acre site with six (6) buildings. Built in 1986, the property offers a balanced mix of four (4) studio, twenty-eight (28) one bed/one bath, twenty-eight (28) two bed/one bath, eight (8) two bed/two bath, four (4) three bed/one bath unit types. The unit sizes average approximately 655 SF. All apartments include individual HVAC and water heaters.
The borrower purchased the property in September of 2016 and has since completed an exterior facelift and rebrand, and interior renovations in many of the units.
A recent pullback in production from both Fannie Mae and Freddie Mac has forced borrowers to seek alternative sources of high leverage, non-recourse, permanent financing for multifamily properties. One of Tower Capital's capital partners is currently offering a "Private Label" conduit product where they are both the originator, servicer, and B-piece buyer, offering a high level of execution certainty. The 10-year fixed rate loan provides a competitive 4.06% coupon and 3 years of interest only payments. The $5,625,000 loan provided significant cash out to the borrower.
About Tower Capital:
Tower Capital was founded to enable owners of commercial real estate to achieve their investment goals with the least amount of time, energy, and cost, while creating surety of execution and peace of mind.
Established in 2015 and headquartered in Phoenix, Arizona, Tower Capital provides customized structured financing to investors throughout the United States. We specialize in debt and equity placement ranging from $2 Million to $100 Million and have financed over $700 Million for our clients since inception. We focus on independent financial advising with an entrepreneurial mindset, market vigilance and personalized attention to every client.