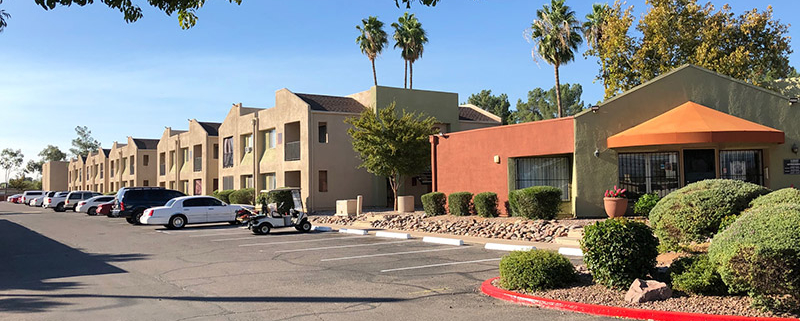 Apartment Refinance – Tucson, AZ
Loan Amount: $11,971,000
Purpose: Cash-out Refinance
Capital Source: CMBS
LTV: 70%
Term: 10 Years
Rate: 4.18%
Amortization: 30 Years
Interest Only: 2 Years
Prepay: Defeasance
Non-Recourse
Transaction Details:
Tower Capital has secured an $11,971,000 loan for a 288-unti multifamily property located in Tucson, Arizona. The Borrower acquired the property in March 2018 for $12.2 million, utilizing floating rate Fannie Mae financing that Tower Capital also arranged. Since acquisition, the borrower has completed a number of capital improvements to the property, including HVAC replacement, new appliances and flooring in many of the units, electrical and equipment upgrades, along with an exterior cleanup and rehab. Through the borrower's efforts of renovating the property and changing the tenant base, they more than doubled monthly rental income within a relatively short period of time.    
Challenges:
The borrower's goal was to take advantage of today's low interest rates by locking in long term fixed rate debt while securing the maximum amount of loan dollars. Unfortunately, historical crime issues at the property prior to the borrower taking over operations, along with a submarket that historically has faced challenges, caused most lenders to approach this loan more conservatively. The team at Tower was able to highlight the borrower's successful track record in turning similar properties around, the vast reduction in crime, and material increase in NOI in order to push loan dollars. 
The loan was sourced through one of Tower Capital's capital partners who is currently offering a "Private Label" conduit product where they are both the originator, servicer, and B-piece buyer, offering a high level of execution certainty. The 10-year fixed rate loan provides a competitive 4.18% coupon and 2 years of interest only payments.
About Tower Capital:
Tower Capital was founded to enable owners of commercial real estate to achieve their investment goals with the least amount of time, energy, and cost, while creating surety of execution and peace of mind.
Established in 2015 and headquartered in Phoenix, Arizona, Tower Capital provides customized structured financing to investors throughout the United States. We specialize in debt and equity placement ranging from $2 Million to $100 Million and have financed over $700 Million for our clients since inception. We focus on independent financial advising with an entrepreneurial mindset, market vigilance and personalized attention to every client.